This is a project that actually started in 2002. This 63 Sport Fury was parked back in 73 after my Aunt Donna was tragically killed in a bad accident, she bought the car new in 1963. So it sat for 30 years untouched until my Dad decided it was time to restore his sister's car. My Grandfather and Grandmother had pretty much made it a "hands Off" item. So here's a shot of us backing it out of the barn/garage back in 2002 just after my Grandmother pasted away. It was filled with rodent crap and acorns and the motor was froze. I just wish I would have had more pictures of it in this condition.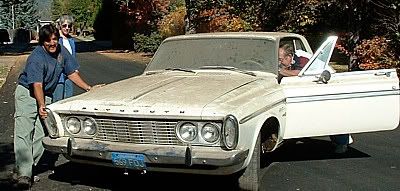 This next shot was taken some time in the same year (I think) and my Dad had it ready for Paint. The pic says 98, but I'm sure it was sometime in 2002,,camera must had been screwed up.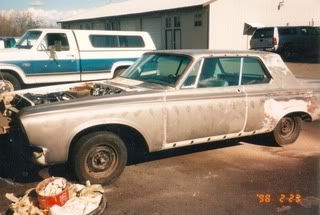 And, here's a shot of my Dad in June of 2004, The 361 had been rebuilt and was now running and it had just come out from the Paint shop. Sadly my Dad had also come out of Exploritory surgery just to find out that he was not only battling colon Cancer, but had grave complications to the newly discovered Pancreatic Cancer.
More to follow...